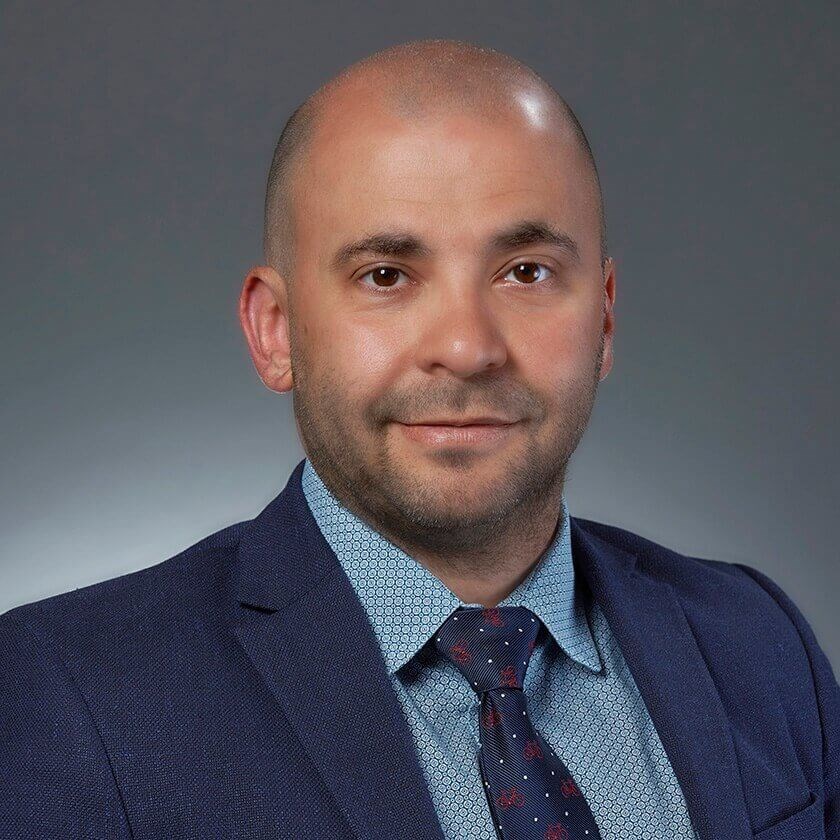 Dr. Alex Gerber is a board-certified and fellowship-trained ophthalmologist at Eye Health Vision Centers in our Middletown, RI office. He has been a speaker at the American Society of Cataract and Refractive Surgery, and his past work has been published in medical journals. Dr. Gerber served as one of the leading investigators in several clinical trials at the former Claris Vision facilities and holds medical privilege at St. James Surgery Center. He has a strong interest in the most innovative techniques and technologies in his field and is fluent in Russian.
As an ophthalmologist who specializes in cataract and refractive surgery, Dr. Gerber regularly sees patients for comprehensive and diagnostic eye exams and their surgical aftercare in our Middletown office. He performs lens replacement surgery, LASIK, and other types of surgical cornea reshaping at St. James Surgery Center. His expertise includes both bladeless (laser) and sutureless cataract surgery, as well as microinvasive glaucoma surgery.
Dr. Gerber completed his undergraduate studies cum laude at the State University of New York at Stony Brook in 2001 where he earned a bachelor's degree in biochemistry. He then pursued his medical degree at the New York College of Osteopathic Medicine and received honors in genetics studies. He went on to do his residency at St. John's Episcopal Hospital in Queens, NY where he became chief resident. During his fellowship at Koch Eye Associates, he received extensive training in cataract surgery, LASIK, and other types of refractive surgery under the supervision of Dr. Paul Koch.
Reviews
"Dr. Gerber Thank you so much for providing such wonderful service! The doctors and staff were very friendly and provided me with an exceptional experience.""
Anonymous
Healthgrades
"Dr Quinn and Dr Gerber are totally awesome! They're both very pleasant and courteous and caring, which helped me feel more relaxed. They are very thorough and professional. I trust their individual judgements, and I have to say that I am glad I have finally found the right Ophthalmologists to go to. I highly recommend them to everyone!"
L.
Google
"Today is my 4th day after surgery so I am now 5 days without glasses!! I spent a lot of time researching LASIK before I decided to go for consultations so I already had a fair understanding of the process. The knowledge I received at Eye Health Vision Center in Dartmouth, as well as the testing and evaluations I received there, WERE FAR SUPERIOR to the other consultation I had at TLC laser vision center in Providence!! I received a much more informative and thorough consultation at Eye Health and I felt that I received a much higher level of care and personal attention. The entire staff was very friendly and informative and they answered all my questions and even gave me more information that I did not think to ask about!! Every detail was explained to me several times throughout the screening process making me feel very much at ease, comfortable, and excited enough to move forward. When my consultation screening was complete, it was reviewed by a doctor right away so I knew instantly if I was a good candidate or not. (At TLC I was told it would take 3 days for a doctor to review my chart and get back to me. I learned later on that it is because their doctors are not local and are flown in, which did not sit well with me and which may also be the reason that the price I was quoted before even being seen, was almost twice as much.) At Eye Health Vision Center, the doctors are all local and are there on the premises every day!! I cannot say enough good things about my experience or Dr. Gerber and the staff at EYE HEALTH!! If I could give them 10 stars instead of 5 I would, they are an amazing group of eye health providers and caregivers and they have changed my life. I am eternally grateful for their experience and their personalized care, my only regret is that i waited so long. Thank you Dr. Gerber and the entire staff at Eye Health for making my dream of a life without glasses become a reality. xoxo (ps. now better than 20/15 without glasses)"
M.S.
Google
"There was a little wait but thats to be expected isnt it? Ana and the rest of the staff were great and Dr Gerber was professional and made me feel comfortable during my short visit. All in all i am satisfied with my experience."
J.
Healthgrades
"Dr. ALEX GERBER performed cataract surgery on both eyes. Results were perfect."
D.
Healthgrades
Related Offers