Opportunities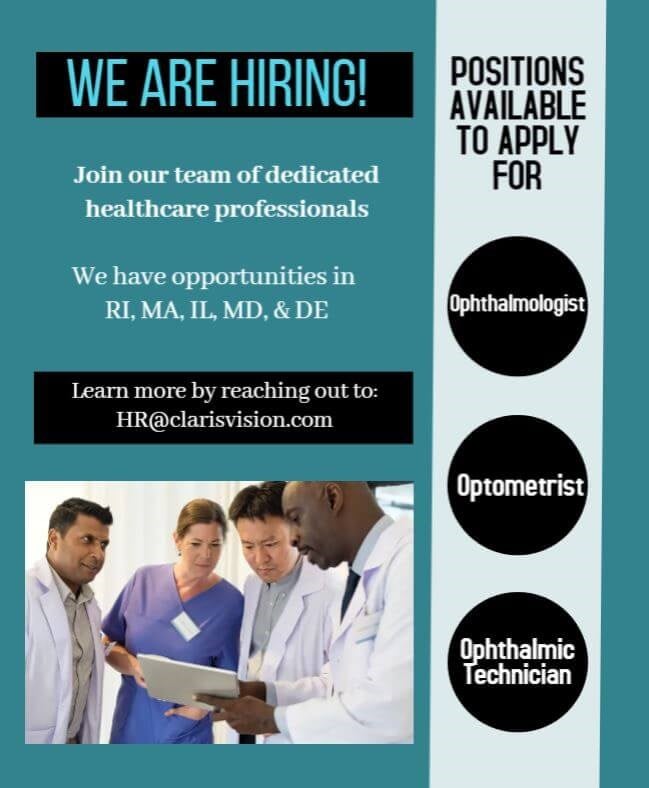 Why Work With Us?
Our Values & Diversity
The Claris Vision team is rapidly growing, with over 300 professionals at 16 locations across the South Coast. Our clinical and corporate team members stem from a wide range of educational backgrounds and specializations. Among our strategies for success is the value we place on education and mentorship. Optometrists, along with fellowship trained ophthalmologists and eye-health sub specialists, are some of the best in the country in a variety of areas, including:
CATARACT
CORNEA
DIABETIC RETINOPATHY
DRY EYE
GLAUCOMA
AGE RELATED MACULAR DEGENERATION
OCULOPLASTICS
AESTHETICS
We take pride in our dedication to diversity and inclusion in the workplace. We believe that our commitment to innovation and exceptional patient care will continue to bring us the most talented, dedicated and forward-thinking individuals the eye care industry has to offer.
Culture
How would we describe our company culture at Claris Vision? It's pretty simple—we're a group of professionals, dedicated to helping people. The collaboration between Medical and Administrative Support team members is what sets Claris Vision apart from other vision care providers. We value the first-hand experience of our medical staff members and encourage all strategic and creative input towards enhancing patient care. For this reason, working for Claris Vision truly feels like working for a team with one goal—showing the world a little more care.
Benefits
Ask about our benefits! We offer a competitive benefits package, which includes Health and Dental Insurance, Life Insurance, Long Term Disability and our 401-K enrollment plan. We also offer flex pay and PTO for all of our full-time employees.
Claris Vision is an Equal Opportunity Employer. We do not discriminate on the basis of race, color, sex, religion, national origin, age, disability, sexual orientation, or any other characteristic protected by federal, state, or local law. The Company will attempt to make every effort to make reasonable accommodations to known physical or mental limitations of qualified applicants or associates with disabilities.
---